The Migros recreational centres – better quality of life for all
In a world that is becoming more hectic, people need a place to relax, where body and soul can be cared for and trained. The Migros recreational centres have been fulfilling these needs since the seventies.
Even before the big wellness trend of the nineties, Migros established itself as a leader in the leisure market adhering closely to its principle mission – "to provide the best possible value for money". Today Migros maintains a wide range of leisure facilities including Golfparks, Fitnessparks, Wellnessparks and Aquaparks.
Migros Fitnessparks, Wellnessparks and Aquaparks
In central Switzerland, Migros strengthened its market position: on 1 February 2009 Migros took over the four centres of the 'TC Group Innerschweiz' incorporating them into the Cooperative Lucerne. Before the takeover, TC was the region's number two fitness group. Migros now maintains eight facilities in central Switzerland.
In September 2009, Fitnesspark Einstein opened in St. Gallen, offering a wide range of services on four floors. One highlight is the top floor spa pool featuring a transparent bottom. Also newly opened were studios 12 (Kloten) and 13 (Uster) of Activ Fitness AG, which belongs to the Cooperative Zürich. The offerings of FlowerPower Fitness & Wellness AG, a subsidiary of the Cooperative Aare were also enhanced. During 2009 new facilities were opened in Olten and Solothurn and other locations are planned.
There have also been a lot of changes at Säntispark - the new fitness area was opened in March, and in May, the new Roman-Irish bath and a new spa area with spa suite. In addition, a sports therapy area and a cosmetics studio, run as a joint venture, were integrated. At Bernaqua, in the Westside Center in Berne, the children's area of the water park was newly renovated during the summer of 2009.
Intercity Card – for more exercise and health
Thanks to all the new openings and takeovers, the intercity network of Migros Fitnessparks, Wellnessparks and Aquaparks has grown to 40 facilities, making it the largest such group in Switzerland.
To better serve the customer, the diversity of subscriptions was considerably reduced. The Intercity Card, a "general subscription card for more exercise and health" is very popular. This offer is aimed at business commuters in particular. This card allows them to use the facilities in 34 Swiss cities and towns. During 2009, a total of 6.2 million visitors were welcomed in the 40 facilities and approximately 99'000 fitness subscriptions were sold.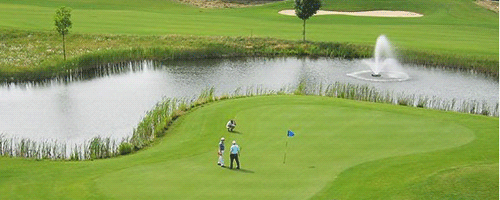 Migros Golfparks
Under the motto "Let's play golf", the six Migros Golfparks offer a total of 177 holes. This makes Migros the largest provider of public golf in Switzerland. Since early 2008, Migros has been issuing the ASG GolfCard Migros, which is accepted at most golf courses in Switzerland and abroad. By the end of 2009 more than 6'300 golfers owned an ASG GolfCard Migros.
And there was even a noteworthy world record: 1'086 golfers took part in the Migros Golfpark Trophy in July 2009 beating the record number of participants at golf tournaments in China and Germany!