Migros classics and innovations that cause a sensation
Some Migros products have been with us since childhood and we couldn't imagine living without them as adults. Classics such as Tourist milk chocolate. And there are innovative products that we want to have as soon as they hit the shelves – like Zoé anti-aging cream with apple stem cell serum.
Monte Generoso cake
Its shape is rather unusual. The Generoso cake looks like an oversized Toblerone without the indentations, in other words, like a pointed mountain. Migros has stocked it for decades, the Jowa bakers' homage to the Monte Generoso Railway. This mountain railway runs to the summit of Monte Generoso next to Lake Lugano and was rescued from closure in 1941 by Migros founder Gottlieb Duttweiler.
 
The Generoso cake – a light sponge with a cream filling and cocoa icing, topped with green hundreds and thousands – was a common treat at coffee time in the Switzerland of the 1950s. Usually after lunch on Saturdays, because people didn't have to hurry back to work afterwards. Years later, when tiramisu and panna cotta became popular, the Generoso cake faded into obscurity. It wasn't just that customers turned their noses up at it. It was worse than that – they no longer gave it a thought at all. Until it re-emerged one day at a birthday party, brought along by an audacious guest. Since then, it has become an occasional treat again – but you have to be quick. If you don't get to your local Migros store until the afternoon, you're bound to hear: "There'll be no more Generoso cake until tomorrow."
It looks as though it really is back in fashion again.
Launched: end of the 1950s
Produced by: Jowa
No. of units sold since 1997: more than 7 million
Handy washing-up liquid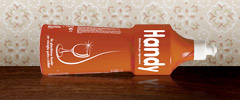 What makes something a cult object? In the case of Handy washing-up liquid, it is most certainly the unpretentious design that makes people want to have it in their kitchen. Especially the 750 ml size. The bottle is orange with white writing and a picture of a sparkling clean glass. No meadows full of flowers, no rolling waves, no entwined leaves. Nothing that could tempt you to drop everything and head for the garden centre in search of flower bulbs instead of quickly doing the washing up. Handy washing-up liquid is now also available in a 500 ml bottle – for concentrated power. But the original remains the cult object. There are even people who, on the rare occasions that they buy a different brand of washing-up liquid, decant it into the large orange bottle when they get home.
Launched: early 1960s
Produced by: Mifa, Frenkendorf BL
No. of units sold since launch: Every year, almost 4 million bottles of Handy are used by Swiss households. This represents an impressive 10,000 bottles a day.
M-Budget spaghetti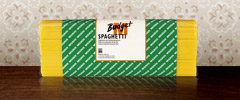 Spaghetti can be a tricky thing: sometimes it's too thin, sometimes too thick. Maybe no. 3 is best, spaghettini? Or no. 4, spaghettoni? But in the end, personal taste dictates what is served up. While one size doesn't always fit all, there's no disputing the fact that, especially for young people, the right spaghetti is M-Budget spaghetti. A kilo pack, so there's enough for a decent second helping.
The following combination is especially popular:
Divide a head of broccoli into very small florets and boil until cooked. Heat a little olive oil in a pan, lightly fry one finely chopped clove of garlic and two finely chopped peperoncini, add the boiled broccoli and continue to cook a little, add salt and pepper to taste. Then add the vegetables to the cooked spaghetti, mix well and sprinkle on grated Parmesan cheese to taste.
Launched: 1997
Produced by: Jowa
No. of units sold since launch: approx. 11 million
Tourist chocolate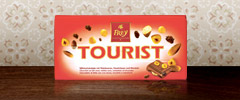 If you live in a male-dominated household – for instance with your beloved husband and two sons – you should never, ever leave a bar of Tourist chocolate on the kitchen table and then disappear for a minute to hang out the washing, while thinking about how much you'll enjoy the raisin-, hazelnut- and almond-filled chocolate bar with a cup of coffee when you get back inside. Because there won't be any left. Not a single piece, not the tiniest crumb. Gone without a trace. There'll only be hastily torn silver foil.
And it won't just happen at home, it'll happen anywhere you leave the chocolate bar unattended and where men are likely to be loitering. In other words, everywhere. It is said that Tourist chocolate is a man's chocolate. But only because women don't usually get the chance to even grab a square.
Launched: late 1960s, early 1970s
Produced by: Chocolat Frey AG, Buchs AG
No. of units sold since 1998: well over 50 million bars
Ice lollies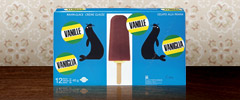 It's a glorious summer's day, just before lunch on Saturday. A father is sitting with his two young children in the garden of a restaurant. Coloured cardboard signs dangle from the vine-covered pergola. One says vanilla ice cream, another says chocolate, while strawberry, mocha and pistachio are written on the others. The older child, who can't read yet, asks: "What does that say?" His father answers: "Closed on Sundays."
And all remains quiet in the garden.
Children, you'll be glad to hear that Migros sells ice lollies – in multipacks. On the packaging – which was created by the Zurich graphic designer Hans Uster decades ago and, according to producers Midor, is set to remain the same for decades to come – there's a picture of an ice lolly as well as seals, racoons, koala bears, zebras, chimpanzees and butterflies. So all children know which freezer cabinet to head for to demand what they want. Migros added the lollies to its range of products in 1975. Today, they are leading items: in 2009, more than 28.3 million lollies were sold. And some of them were no doubt polished off before lunch.
Launched: 1975
Produced by: Midor AG
No. of lollies sold since 2003: 197.5 million
 
An apple stem cell serum becomes a big seller in 2009
"Praised to the heavens by US Vogue and Swiss newspaper 20 Minuten", says a poster in the cosmetics department at the Migros Zugerland shopping centre. The shelf to which the poster is attached is virtually empty. Just two jars of Zoé Night Renewal Booster are left.
Since reports about the anti-aging serum appeared in the press, it has become a must-have. It's all down to the active ingredient PhytoCellTecTM Malus Domestica, or to put it simply: apple stem cell extract. The Mibelle biochemistry researchers produced it using Uttwiler Spätlauber apples, a variety which rarely used to hit the headlines. The fruit is much too sour to eat and there aren't even very many trees left. But - and this is what the cosmetic industry researchers knew - the Uttwiler Spätlauber variety keeps well, much better than other varieties, and… it doesn't go wrinkly!
The Mibelle chemists turned to the research station Agroscope Changins-Wädenswil (ACW) with a few of the rare apples, and after four years' work in the lab managed to cultivate Uttwiler Spätlauber stem cells. This resulted in the active ingredient Phyto CellTecTM Malus Domestica.
News of the plant stem cells, which boost the vitality and lifespan of skin stem cells, spurred the international cosmetics industry into action. Lancôme and Clark's Botanical were soon knocking at the door of Mibelle Biochemistry – a Mibelle business unit – and ordering the ingredient for their products. What's more, Uttwiler Spätlauber has also attracted the attention of the White House. According to US Vogue, first lady Michelle Obama is also a fan of anti-aging cream with Mibelle's active ingredient. But anyone who wants to follow suit here in Switzerland has to hurry. The two products so far launched – a night serum and a lip and eye serum – are in great demand. In summer 2010, a day cream will be added to the range.
And as US Vogue wrote: an apple a day may keep wrinkles away.
Launched: October 2009
Produced by: Mibelle
No. of units sold since launch: Night Renewal Booster, 34,556 (6th October 2009 to 20th January 2010); Lip & Eye Flash Program, 14,998 (6th October 2009 to 20th January 2010)
Award: European Cosmetics Innovation Prize 2008; Category: Best Active Ingredient