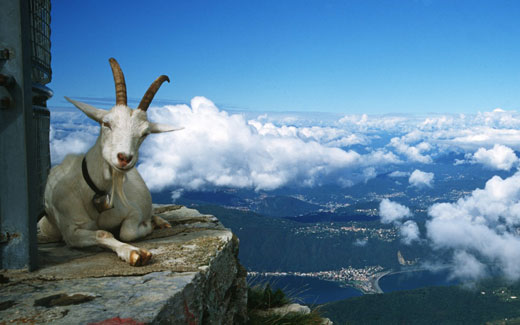 Leisure
The Monte Generoso rail in Ticino with its fantastic panoramic views of Lake Lugano and Lombardy celebrated its 120th anniversary. And the four Parks im Grünen offer well-known, treasured local recreation and the wonders of nature for young and old.
120 years of Monte Generoso rail
Who knows whether Dr Carlo Pasta of Mendrisio, sponsor and founder of the Monte Generoso rail, would have thought in 1890 that his pioneering work would be celebrated 120 later. The cog railway, which runs from Capolago to Vetta del Monte Generoso, was an absolute novelty for Ticino at the time. Together with the funicular railway of  San Salvatore, it was the first tourist installation in the canton of Ticino. Thanks to his purchase in 1941, Gottlieb Duttweiler preserved the Monte Generoso rail from closure. Since then, the rail has been a Migros business.
In 2010 the Monte Generoso rail celebrated its anniversary with the San Salvatore rail under the banner: 120 Years Together for Tourism. The two companies offered fare reductions of up to 50% and organised excursions with SBB that took guests to both mountains on the same day. Additional offers for schools were actively used.
On 4 June 2010, exactly 120 years after its opening, the rail reached its capacity. It transported more than 1'500 passengers to Vetta at the same price that passengers paid in 1890: eight francs for a return ticket. The birthday was duly celebrated on Vetta with a major festive event.
The four Parks im Grünen
In 2010 the four Parks im Grünen offered, in addition to their permanent attractions and the popular, traditional 1 August festivities, constantly changing events. For instance, in the Münchenstein Park im Grünen, tea dances were held regularly, where people met for coffee, cake and dance music. Music and dance evenings were also the attraction in the Parc Pré Vert du Signal de Bougy. A special children's open-air cinema was held in the Rüschlikon Park im Grünen, also known as Dutti-Park. The Gurten Park im Grünen posted a record: Gurten rail  transported more passengers up the Gurten in 2010 than in its 11 years of existence: 916'051 people, to be precise.
 
Figures and charts Migros Culture Percentage