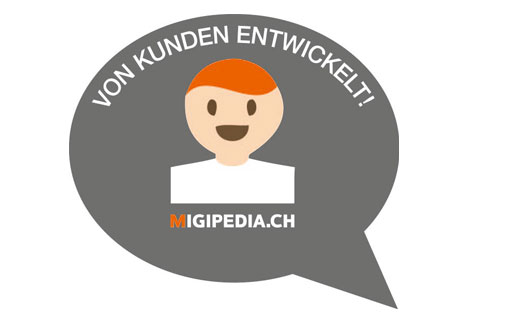 Feeling the Pulse of its Customers
In numerous publications, Migros regularly updates its customers on social and ecological topics. The retailer has greatly expanded its appearance in social networks on the internet in recent years.
Contact with its customers is extremely important to Migros. In doing so, the retailer not only aims to inform transparently, but also wants to exchange information. Migros would like to know what drives people who shop at their branches, what they would like and where they want to be supported.
Regular customer surveys
The retailer conducts surveys of passers-by and of customers every year, in which the respondents can make suggestions for improvements. In 2011 questions regarding the product range, service range, price-performance ratio and the conduct of employees were the focus. Overall, the respondents were very satisfied with Migros' services. In addition to the surveys, the retailer repeatedly takes initiatives to enter into an even closer dialogue with its customers. As such, the Migros Aare cooperative launched a trial last year, during which customers can voice their range wishes directly in the branch where they shop most frequently. On an «electric wish tree», they choose the items that they are missing. The branch then adds items that are wanted by several customers. The same cooperative set up the Migros Customer Council. The customer councils sit once or twice a year and exchange ideas about selected topics.
Active in social networks
To enter into a dialogue with customers, Migros also uses social networks on the internet. It has operated profiles on Facebook (a total of 280 000 fans) and Twitter (5000 followers) for some time. In an open dialogue, the retailer responds to questions and receives requests from its customers. Migipedia has become an extremely popular offer: the own community platform already has 23 000 members. They can comment on more than 13 000 products. This gives rise to lively discussions amongst users. Suggestions and product ideas are also often included in the range design.
Popular customer service M-Infoline
Since its creation twelve years ago, the M-Infoline has become the main point of contact for Migros customers, with 168 000 contacts in 2011. Consumers can communicate with Migros directly by telephone or e-mail as well as via additional channels to obtain information on products and services, voice their criticism or make suggestions. The M-Infoline employees also reply to questions regarding the business policy and the cultural, social and ecological commitment. In 2011 Migros' customer services recorded their millionth customer enquiry:
M-Infoline: Customer enquiries (in thousand)
| | | | | | |
| --- | --- | --- | --- | --- | --- |
|   | 2007 | 2008 | 2009 | 2010 | 2011 |
| Enquiries    | 145 | 159 | 150 | 165 | 167 |
Broad range of topics in Migros print media
The Migros print media reach a total of more than 3 million people and also provide information on matters of sustainability. The bilingual Migros magazine and the Ticino affiliated newspaper Azione regularly publish articles on ecological, social and business policy subjects. An annual special issue and a weekly column on sustainability as of 2012 top off the magazine's comprehensive range of information. The Saisonküche regularly publishes recipes which are based on the philosophy of the Green Gourmet cookery book published in 2011. All the dishes of the cookery magazine are also in line with the seasonal offer. The sustainability and well-being magazine Vivai is published six times a year and writes about the topics of the environment and nutrition in background reports and coverage. Vivai and Saisonküche are printed in a climate-neutral way. A partial partial print run of a Migros magazine issue was produced with a mineral oil-free print colour last year as a trial run.
Migros Press: Number of readers (in thousand)
| | | | | | |
| --- | --- | --- | --- | --- | --- |
|   | 2007 | 2008 | 2009 | 2010 | 2011 |
| Circulation | 2215 | 2191 | 2176 | 2156 | 2163 |
| Readership | 3028 | 2988 | 3074 | 3013 | 3066 |
Generous Cumulus bonus programme
More than 2.7 million customers participate in the Cumulus bonus programme. Thanks to cooperation with Ticketcorner, Cumulus participants have been able to attend discounted events since 2011. Cumulus points can now also be donated to charity. Various social institutions are available for this purpose on the Cumulus website, including Glückskette. When handling customer data, Migros not only strictly complies with the law, it also considers internal principles which go beyond the law to protect the privacy of Cumulus users. Migros was therefore awarded the GoodPriv@cy quality seal of the Swiss Association for Quality and Management Systems. The compliance with the rules is verified in an annual audit.