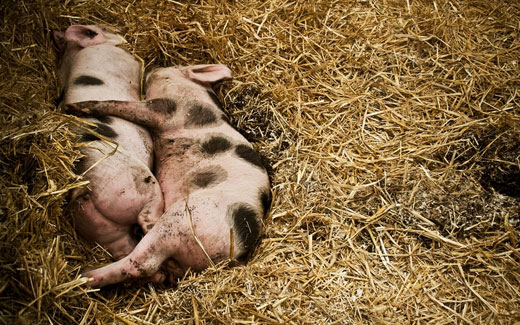 For a Species-appropriate Life
An increasing number of consumers prefer meat and eggs from animals which were kept in a way that is appropriate to their species. Migros also attaches great importance to animal well-being. It proves this not only with its label programmes, but also across its entire range.
With the biggest share of meat from Switzerland and comprehensive label programmes, the retailer proves how highly it values animal well-being. For further animal products, Migros also ensures that animals do not suffer unnecessarily. As such, the retailer signed an agreement as a «fur-free company» with Swiss Animal Protection in summer 2011. It does not sell any products that contain real animal fur. An exception is fur from lambs and sheep which were not kept for fur production purposes. Migros does also not sell any eggs from hens kept in batteries. It does also not offer any products containing live-plucked down.
Meat procured domestically
Migros predominantly sells local meat: nearly 100% of beef, veal and pork is produced domestically. The figure is 77% for poultry. This meat is produced in accordance with our animal welfare provisions, which are strict by international comparison and do not have long transport routes. For other meat types, such as lamb, turkey and rabbit, the share of imports is higher due to a lack of domestic supply. 80% of rabbit meat, for instance, comes from Hungary. Migros has established animal-friendly rabbit rearing under Swiss animal protection laws together with the Hungarian supplier.
Label programmes achieve major share
Under its label programme, Migros promotes a standard of animal husbandry that significantly exceeds legal requirements. The directives of the label programmes are regularly adjusted to the latest scientific findings. Under the labels of TerraSuisse and Bio, farmers keep their animals in animal-friendly stables, giving them the option to leave the stables regularly. Of the meat which Migros procures from Swiss agriculture, 94% of calves, 65% of cows and 85% of pigs correspond to one or more of these labels. This figure is ten percent higher than last year for pigs. Due to customer demand, however, part of the labelled goods is sold as standard meat. The amount of labelled meat as a proportion of total meat sales is therefore lower than for meat that Migros procures from Swiss agriculture. The share of organic and free-range eggs is 35%.
New quality seal for pasture meat launched
In 2010 Migros rolled out the Bio Weide-Beef and Weide-Beef programmes. Under both programmes, Swiss cows are kept in groups, have outdoor access throughout the year and spend summers on pastures. In 2011 Migros created a further offer for pasture meat: seven cooperatives launched the Alplamm brand in September. Micarna SA, the Swiss Farmers' Union and the Swiss Sheep Farming Association are involved in this programme. Some 60 alpine farms, which keep more than 8000 alpine lambs, have participated in the programme so far. The animals can move freely and eat fresh mountain herbs. Their summering contributes to the benefit of the vegetation and alpine pastures.