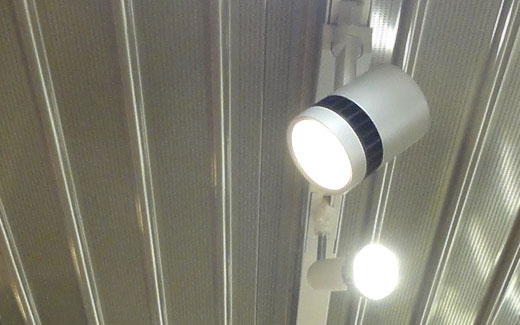 Ramping up Energy Savings
Migros is and remains the Swiss champion of implementing the Minergie standard for energy-efficient buildings. But the retailer also achieves milestones in their operation.
With 79 certified Minergie buildings and a total area of 790'000 square metres, Migros is the Swiss champion in implementing this energy efficiency standard. In addition to 27 Migros supermarkets, 52 other buildings (offices and residential buildings of the Migros Pension Fund and Migrol petrol stations) have been awarded the label. Features of the Minergie supermarkets are highly insulated building shells, controlled ventilation systems, power-saving lighting and – particularly important in food retailing – energy-efficient cooling and refrigeration systems. Migrol decided in 2011 to build all migrolino petrol station shops to the Minergie standard only in the future.
LED lighting established in the branches
In 2006 Migros opened the world's first supermarket to be fitted entirely with LED lights in the shop room. In 2010 the retailer inaugurated in Pfungen (ZH) Switzerland's first supermarket to be fitted entirely with LED lights, not only in the shop, but also in the technology and changing rooms, in the goods inwards area through to parking lighting. This means that the shop's lighting is for the first time below 10 watts of electrical power per square metre. Older Migros branches range between 16 and 35 watts; however, these values are also below the industry average. Light-emitting diodes (LED) convert power in a highly efficient way, in particular at low temperatures. Due to the low infrared and UV radiation, food remains fresh for a longer period of time. Dozens of branches have already fitted their cooling cabinets or selected areas with LED lighting, and Migros plans further retrofitting campaigns.
Glass doors installed in cooling units
About half of all power in supermarkets is consumed by freezer and cooling units. With state-of-the-art refrigeration, this power consumption can in some cases be reduced dramatically. As a rule, freezer units have glass doors or sliding glass covers. Cooling units, i.e. the shelves operating at fridge temperature, are rarely covered during working hours in Switzerland.
Migros was the first retailer to also fit cooling units with glass doors in 2009. Thanks to the support of ProKilowatt, the national programme to promote energy efficiency of the Swiss Federal Office of Energy, Migros expanded the successful trial to all cooperatives in 2011. In the meantime, some 50 branches have glazed cooling units. This has reduced the retrofitted cooling units' power consumption by up to 45% in some branches. Due to this huge savings potential, customers accept the glass doors, although they make shopping more difficult at peak times.