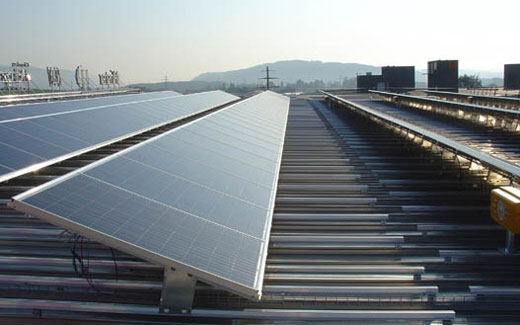 Persevering with climate Protection
Migros is making an exemplary contribution to protecting the climate. As such, it sets milestones in the efficient use of power, in the use of renewable energy carriers and in the reduction of refrigerant agent emissions. Last year, the retailer again met its energy- and CO2-reduction targets and approved an ambitious climate and energy strategy until 2020.
More than 35 years ago, Migros started recording and systematically reducing its power and crude oil consumption. For these long-standing efforts, Migros won the Energy Globe Award in 2011. Integrated in the environmental and energy management are the business units of Cooperative Retailing (Migros Federation of Cooperatives and the 10 regional cooperatives with their branches and logistics centres) as well as Industry & Wholesale.
Climate targets achieved
To boost energy efficiency and reduce CO2 emissions, Migros has been cooperating with the Energy Agency for the Economy (EnAW) since 2002. Individual energy and climate targets apply for all Migros branches as well as logistics and industrial enterprises, for the head offices of Hotelplan, Migros Bank, Federation of Migros Cooperatives, for the major department stores of Globus and Interio, and for 17 Fitnessparks. The retailer also joined the WWF Climate Group in 2007. In the same year, Migros approved a comprehensive climate protection strategy. It takes three strategic approaches: the reduction of the carbon footprint in its range, the support of customers in climate-friendly consumption and the reduction of operating emissions. Migros was highly successful with this consistent approach in partnership, and it managed to achieve CO2 reductions of 28% in the combustibles and fuels area between 2000 and 2011.
Cooperative Retailing and Industry
CHART - CO2-Zielvereinbarung Migros
CHART - CO2-Zielvereinbarung EnAW: Betriebszentralen
CHART - CO2-Zielvereinbarung ENAW: Filialen und Industriebetriebe


New climate and energy strategy approved
The retailer revised its climate and energy strategy in 2011. This document specifies the binding targets for Cooperative Retailing (branches, logistics centres): by 2020, all greenhouse gases from combustibles and fuels, refrigerant agents and power resulting from its operations will be reduced by 20%. At the same time, power consumption is to be reduced by 10%. This represents absolute reductions compared to 2010 despite planned area growth in the shops area. The new strategy includes the value-added chain, i.e. the carbon footprint of the products, even more strongly.

Power and heat used efficiently
The total energy consumption at Migros has hardly changed over the past five years, but its sales area has increased by 9% over the same period. As such, the retailer is consuming ever less energy per square metre of sales area (see chart specific energy consumption of stores). Contemporary shops are ideally heat insulated and use the waste heat from the cooling and refrigeration system so well that they do not need fossil heating; in addition, cooling and refrigeration systems and lighting are becoming increasingly more efficient. In 2011 the total heat consumption dropped slightly (-1.9%) in particular due to the lower heat consumption. This has to do with the warm weather: less combustibles like oil and natural gas were used for heating. The specific total energy consumption (kWh/CHF 1000 of sales) has been flat in recent years. The minor rise in the year under review is down to lower sales, despite the reduced energy consumption. Industrial enterprises' energy needs remain flat thanks to technical energy efficiency measures, although they are producing ever more and processing steps are being automated (see chart specific energy consumption of industrial companies). The Migros' industrial companies Micarna, Mifa and Jowa conducted energy savings weeks in 2011 in order to raise employees' awareness of the need for responsible energy use.
Cooperative Retailing and Industry
CHART – Gesamtenergieverbrauch, absolut
Total energy consumption, absolute 2011
[in GWh
]
| | | | | | |
| --- | --- | --- | --- | --- | --- |
|   | Electricity | Heat | Fuel1 | TOTAL |   |
| Cooperative Retailing | 650 | 132 | 108 | 890 |   |
| Stores | 506 | 74 |   | 581 | 36% |
| Logistics companies (operations centres, distribution units, FMC) | 144 | 58 | 108 | 310 | 19% |
| Industry | 320 | 383 | 6 | 709 | 44% |
| SUM | 970 | 515 | 114 | 1'600 |   |
|   | 61% | 32% | 7% |   |   |
CHART – Gesamtenergieverbrauch, spezifisch
CHART – Spezifischer Energieverbrauch der Industriebetriebe
CHART – Spezifischer Energieverbrauch der Filialen
Proportion of energy carriers in total energy consumption
[in per cent] Total consumption: 1'600 GWh
1
In-house car fleets Migros cooperatives+Scana
2
Income Migros retail (Migros cooperatives, FMC, industrial and logistics enterprises)
Renewable energies promoted
Migros' power consumption was 970 GWh in 2011 and corresponds to the Swiss power mix*. However, Migros actively promotes the sustainable generation of energy: it is one of the biggest buyers of renewable power in Switzerland and procured 101 GWH of certified green power (naturemade star and basic as well as TÜV-certified green power) in 2011. Migros is also itself committed to climate-friendly energy supply and operates its own solar power plants or provides its roofs for such installations. Five new solar power plants on Migros roofs when on stream in 2011. As such, a total of 20 photovoltaic systems were in use on Migros buildings at the end of 2011. They generate some 2980 megawatt hours of power annually, which corresponds to the power consumption of nearly 700 family homes. The biggest part of which is fed directly into the public grid. The photovoltaic system on the roof of the Länderpark Stans shopping centre was even commended by the Swiss Solar Agency. In addition, four Migrol petrol stations are fitted with solar power stations.

Apart from the sun, Migros relies on other climate-neutral energy sources: seven of 13 logistics centres already use heat from renewable energies like wood, geothermal heat or heat from waste incineration plants. Consumption of energy from wood and waste incineration is 72'000 MWh (14% of total heat consumption).


* According to a survey by the Swiss Federal Office of Energy, the Swiss power mix in 2007 was: 41% nuclear, 36% hydro, 2% fossil energy carriers (predominantly natural gas), 2% waste and 19% non-verifiable energy carriers or 154 g of CO2 eq/kWh.
Greenhouse gas emissions recorded
In addition to its CO2 emissions from combustibles and fuels, Migros also records other greenhouse gas emissions, such as from power, waste, personal flights as well as refrigerant losses. On the basis of the consistent reduction in fossil fuels, refrigerant losses in the branch area now make up the bigger greenhouse gas source than CO2 emissions from combustibles (apart from power).
Cooperative Retailing and Industry
CHART - Gesamte direkt verursachte Treibhausgasemissionen (THG), absolut
Table

«

Direct und indirect greenhouse gas emissions (GHG) 2011

».
CHART – Gesamte direkt verursachte Treibhausgasemissionen (THG), spezifisch
3
Greenhouse gas emissions Scope 1 and 2 in accordance with Greenhouse Gas Protocol
4
Fuel consumption of in-house vehicle fleets of the Migros cooperatives and Scana
5
In accordance with Swiss consumption mix at 154g CO2eq/kWh power
Refrigerant emissions reduced
Migros has been using carbon dioxide as its standard refrigerant in all branches since 2011. Its carbon footprint is 1000 times lower than synthetic refrigerants like FC or HFC. Migros already operates more than 220 CO2 cooling and refrigeration systems in its branches (see chart number of CO2 cooling and refrigerant systems in branches); as such, some 10% of cooling and refrigeration systems have been switched to CO2 refrigerants. To further reduce the refrigerant loss of synthetic refrigerants from existing cooling and refrigeration systems, Migros conducts very comprehensive refrigerant monitoring for all its cooling and refrigeration systems in its branches and operations. The key measure to reduce refrigerant losses is to seal the cooling and refrigeration systems. Since 2009, the industrial companies have been CFC free; in 2011 the last CFC cooling and refrigeration systems in cooperative retailing were replaced.
CHART - CO2-Kälteanlagen in den Migros-Filialen