Club School Wengihof, Zurich, 5 p.m.: one of 8'600'000 lessons
Migros Culture Percentage
For the past 55 years, Migros Culture Percentage has dedicated itself to the social cohesion of people in Switzerland within the areas of culture, society, education, leisure and business. This globally unique corporate concept is deeply rooted in the values of Migros and fully reflects the spirit of its founder Gottlieb Duttweiler.
Cultural mediation
Mediation is a hot topic in current cultural debate. Migros founder Gottlieb Duttweiler was committed to making culture accessible to all sections of society. Cultural mediation has been a firm component of Migros Culture Percentage for 55 years. In 2012 it was a focal point in various areas.

In the category of classical music, two mediation projects were a resounding success: Classic Express, the world's first mobile concert hall, toured with young musicians through German-speaking Switzerland in a trailer to introduce primary school pupils to classical music. Another brand-new format was the Mit den Enkeln zur Klassik (classical music with grandchildren) workshop for grandparents, who were armed with specialist musical knowledge and given the chance to attend a concert with their grandchildren. The children could thereby discover classical music in a stimulating, intergenerational way.

The Migros Culture Percentage Dance Festival Steps kicked off its 2012 tour in western Switzerland. In its thirteenth edition, the festival organised pre- and post-discussions on dance performances, workshops for children and professionals, as well as a dance film festival, all of which helped to convey the content more effectively. The festival also brought contemporary dance to several nursing homes. A total of 32'000 dance enthusiasts attended 94 performances by 14 companies on 45 stages in 33 towns and cities, setting a new audience record.

After a two-year reconstruction phase, Europe's renowned Migros Museum of Contemporary Art opened its renovated and enhanced premises inside Zurich's Löwenbräukunst-Areal in November 2012. Across two storeys, the museum can now regularly present pieces from its extensive collection alongside solo and group exhibitions, as well as enriching its programme with mediation and other related events.

At the symposium «Vermitteln! Mehr als nur Rezepte» (Mediate! More than just formulas), which was organised by Migros Culture Percentage and Pro Helvetia, around 120 specialists from all sectors discussed appropriate forms and effects of mediation.

In 1957 Gottlieb Duttweiler got diva Maria Callas on board for her one and only appearance in Switzerland. Fifty-five years later, Migros Culture Percentage Jazz organised the only Swiss concert of the opera and singing icon Jessye Norman in Zurich's Tonhalle. This is testament to Migros Culture Percentage's continuous commitment to give people access to high-quality concert experiences.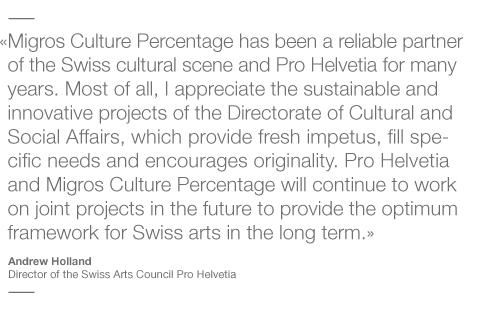 Building a stronger society
Migros Culture Percentage strengthens social cohesion in order to create a better quality of life for the people of Switzerland. Through its projects, it aims to give everyone the opportunity to make an active contribution towards building a civil society.

People who performed voluntary work in their youth will be more willing to help their fellow people for free in adulthood. For the 2012/13 school year, the motto of x-hoch-Herz is «Doing good does you good!». This national competition invites primary school children to write the lyrics for songs that have been composed especially for Migros Culture Percentage. The winning lyrics are then incorporated into a professionally recorded song.

In 2012 a Generations Academy was held to create more social cohesion in Swiss municipalities. Two Generation Debates gave guests from politics, research and society a platform upon which to convey current generation-related issues to the general public.

Cooking, eating, talking together: Tavolata unites older people at self-arranged communal meals in a unique dynamic. Since 2010, around 100 Tavolata communal meals have taken place throughout Switzerland, and the number is rising each month.

In October 2012 Migros Culture Percentage launched conTAKT-spuren.ch, together with the Graubünden Teacher Training College and Neuchâtel University. This free digital teaching aid on the subject of migration fills a real need: although migration is now part of everyday life for schoolchildren, there has never been a corresponding teaching aid for lessons.
Education for all
The Migros Club School is Switzerland's largest provider of adult education. This is reflected in its impressive figures for 2012:
9'000'000   participant hours
393'000      course and seminar participants
52'000        courses and seminars held
7'500          course teachers
1'500          employees
600             different courses and seminars
50               different locations

Since June 2012, the Migros Club School has been communicating its motto «Providing access to education» in a whole new image, revising its range of courses and corporate design. New TV ads make it clear that the Migros Club School has the right course for all walks of life. In 2012 410'000 people attended one or more of the 600 courses or seminars in order to overcome the challenges of their professional or private lives.

The Migros Club School has been offering creative courses in seven art disciplines for 20 years. The study attainments are now rewarded under the ETCS (European Credit Transfer and Accumulation System) and audited by the Zurich University of the Arts (ZHdK). The course «Leadership with SVF certificate» was also enhanced and is now being offered in Ticino as well.
 
The Federal Office for Migration (FOM) commissioned the Migros Club School with the project «Illustration of learning objectives in the proficiency areas of speaking and writing in French and Italian». It forms part of the FIDE programme, which aims to promote an official Swiss language to immigrants.

In the Eurocentres language schools, more than 10'000 people aged between 16 and 81 from 94 different nations studied at one of the 39 schools in 18 countries during 2012. All courses can now be booked directly online. With eleven new destinations – including Buenos Aires, Cusco, New York, Boston, San Diego and Miami – Eurocentres has become even more attractive.

All Eurocentres schools have state-of-the-art facilities. The IT landscape has been completely modernised and the classrooms have been equipped with interactive whiteboards. After completing the course, the students are awarded a corresponding certificate.
Outdoor leisure
Migros Culture Percentage is committed to offering the Swiss population a sensible range of leisure opportunities in the nature surrounding cities. The four «Green Parks» and the destination Monte Generoso give both young and old alike the opportunity to relax, play and experience nature.
For the future of the economy
In 2012 the GDI Gottlieb Duttweiler Institute conducted four studies on behalf of clients, plus more than ten of its own. This involved the institute developing theories and scenarios for business, politics and society for the next 20 to 30 years. The GDI researchers were invited to more than 150 talks in seven countries. The feedback to the role of the magazine «GDI Impuls» as an agenda-setter and a source of ideas was particularly good.

The conferences of the GDI were very well received by the public – especially the European Trend Day, which sold out very quickly. At the 62nd International Retail Summit with the theme «Radical Retail», industry heavyweights and start-up companies came together to discuss the future of retail. Speeches were also held in the fast-paced Pecha Kucha format for the first time, a change which went down well with the guests. Last but not least, the area of guest events also performed very well in 2012, despite a tough competitive environment.

The courses offered by the Gottlieb Duttweiler Chair at the University of St. Gallen were very popular among students in 2012. These included the subjects «Retail Management and E-Commerce» and «Supply Chain Management» on the Bachelor's programme, «Customer Value in Retail» and «International Retail Marketing» on the Master's programme, and «Writing Proposals for Academic Conferences» on the PhD programme. Forty-five Bachelor's theses and 21 Master's theses were submitted on the problem areas of retail management. Four doctorates focused on diversification strategies in retail, the saving patterns of customers, the role of customer-loyalty tools, and the customer's perception of product range, price and promotion.

The «2012 St. Galler Handelstag» conference addressed the topic of customer inspiration with high-calibre speakers from the worlds of retail, industry and science. The study «Mehr Profil durch Kundeninspiration» (A higher profile through customer inspiration), together with five in-depth industry studies, highlighted new potential for Swiss retail. In addition, the holder of the Gottlieb Duttweiler Chair, Prof. Dr. Thomas Rudolph from the University of St. Gallen, received the Managerial Impact Award for his achievements in integrating scientific findings into mainstream practice.