Participation
In 2011 the 47 Migros Group personnel policy committees were reappointed - 462 women and men were democratically elected as employee representatives. As internal social partners, they play a key role and have comprehensive co-determination and cooperation rights at company level.
With 47 personnel policy committees in all business units, the social partnership in Migros Group has a nationwide impact: 462 members at some 1300 sites represent the social and economic interests of employees. They are democratically authorised and representative, their candidacy was supported by more than 5000 colleagues and several tens of thousands of votes were cast during their election. 68% of those voting were women. The proportion of women in the personnel policy committee has also risen to more than 49%. In other employee organisations, it is now between 20% and 30%.
The personnel policy committees also represent the executive employees below the directorate level, who can bring their expertise to the table accordingly. With a share of 88% employees, 3% apprentices and 9% executive employees, Migros has a balanced representation in its personnel policy committees. It gives the internal social partnership a 360-degree perspective.
Gender distribution in personnel committees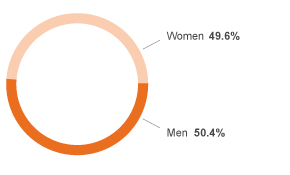 Functional position of the members in personnel committees