Migros Annual Report 2019
About this report
As a large group of companies and service providers, Migros is in constant contact with people and its environment in various ways.
In addition to Migros' economic performance and its asset, financial and earnings position, this report also highlights its roots in the natural and built environment and its interactions with society and various stakeholders. Migros has a clear concept of value creation and manages the company accordingly.
Financial reporting
These Migros Group financial statements have been prepared in accordance with the provisions of the law and the financial reporting standards of Swiss GAAP FER. With the aim of ensuring maximum transparency for the reader, the Migros Group has decided in many areas to impose stricter reporting and disclosure requirements than those stipulated by Swiss GAAP FER. Swiss GAAP FER provides a framework for financial reporting that is as transparent as possible, clearly comprehensible and geared towards the needs of the reader.
The main accounting principles can be found in the PDF Migros Group Financial Report. The financial report of the Migros Group is available in English, German and French. The German version is authoritative.
Governance
The information about governance describes the overall organisational and contextual structuring of the management and supervision of Migros, a cooperative structure. The Federation of Migros Cooperatives is committed to responsible, purposeful and integrated governance. It therefore voluntarily adheres to the provisions of economiesuisse's Swiss Code of Best Practice for Corporate Governance, to the Corporate Governance Directive of the SIX Swiss Exchange (DCG) and, where appropriate, to the federal ordinance against excessive pay (VegüV). Any deviations from these provisions are referred to in the report.
Sustainability reporting
Sustainability reporting is an integral part of the Annual Report. Migros describes its main sustainability efforts in the reporting year in accordance with the guidelines of the Global Reporting Initiative (GRI).
Reporting limits
The details relate generally to the entire Migros Group, except where otherwise stated. The sustainability reporting focuses on the strategic business units (SBUs) Cooperative Retailing (core business) and Industry & Wholesaling.
The strategic business units Commerce, Financial Services and Travel are partially covered in the sustainability reporting. Selected figures for individual Migros Group companies, such as those relating to the basic requirements for suppliers and product range or to selected milestones for individual 2019 objectives, are taken into account. The published figures on energy consumption and greenhouse gas emissions for the Migros Group are based in part on estimates for the SBUs Commerce, Financial Services and Travel. Due to the Migros Group requirements for corporate environmental protection (formerly "basic requirements"), the underlying data is becoming increasingly complete and precise.
The sustainability reporting covers the following issues and business units: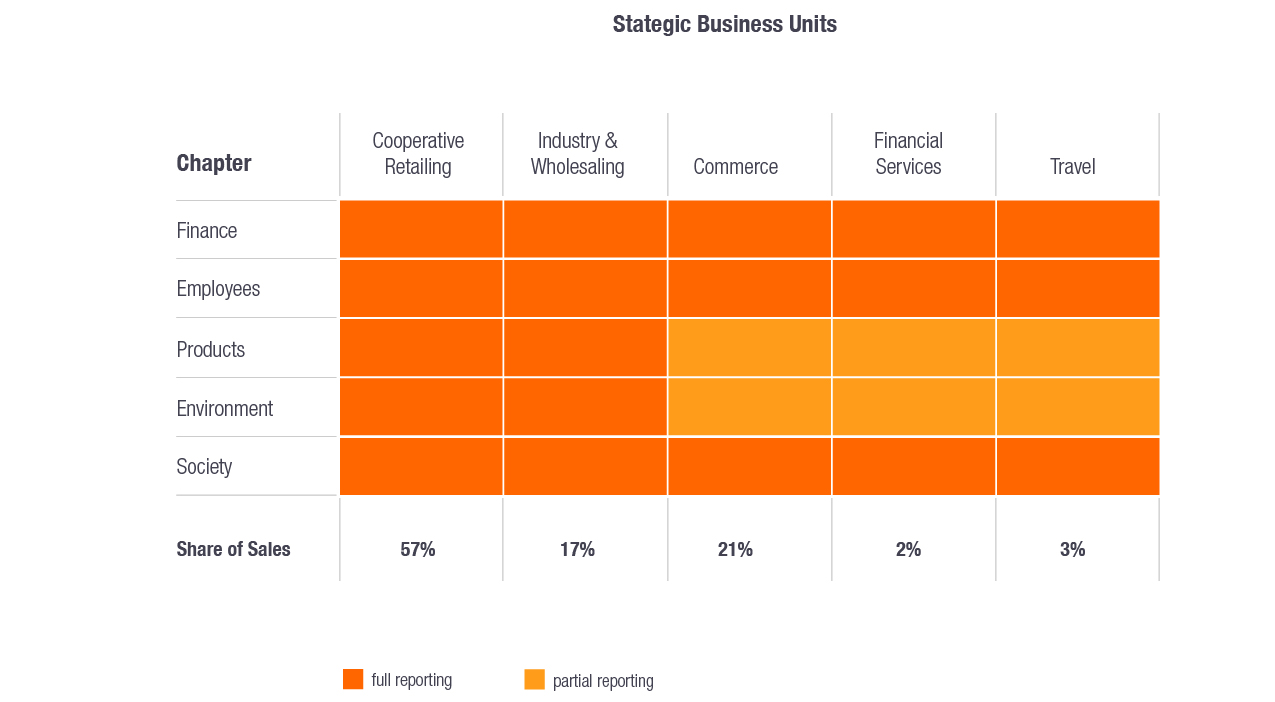 About this report (pdf, 546.32 KB)