Education for everyone
The motto is as up-to-date today as it was 60 years ago. Education for Everyone, the Migros Culture Percentage commitment to education, enjoys great significance and tradition.
Migros Culture Percentage provides education and enjoyment of social developments to a broad segment of the population. The leading institution for continuing education - Migros Club School, and the worldwide leading language school, Eurocentres, are dominant forces.
Migros Club School
Migros Club School is the largest institution for continuing education in Switzerland and offers courses and seminars at 50 locations. The curriculum of courses is continually growing and tailored to current needs. More than 600 courses are currently available. Again in 2009, the diverse educational programmes drew wide interest: a total of 450'000 enrolled students was recorded. Since 2007, Migros Club School has not only offered its «classic» courses but has become an educational partner in professional training. Club School Business offers many courses resulting in nationally and internationally recognised certifications.
New website – faster communication
Having an online presence is of key importance for Migros Club School. In 2008 every fifth student enrolled via the Internet. Migros Club School takes this trend seriously and therefore launched a completely improved website in July 2009. Thanks to new navigation menus, it is even easier to search the course offerings and enroll.
Surprising course offerings
To further its course offerings in the fields of art and design, Migros Club School now cooperates with the Zurich University of the Arts (ZHdK). The ZHdK students developed 8 courses and participants began enrolling last August. There are such diverse offerings as «trick_film» (animated film), «erotik_kalender von Frauen für Frauen» (erotic_calendar by women for women) and «face_book für Einsteiger/innen» (face_book for beginners).
Another new course «Familienfrau – auf zu Neuem» (Women & Family – On to New Things) was introduced by the Club School in Lucerne and is being rolled out at other locations in Switzerland. Also, courses on molecular cooking, previously only open to a specific audience, are now welcoming all interested individuals.
25 years of IT courses
Migros Club School has always been a trendsetter in the development of its curriculum as demonstrated by the introduction of nationwide informatics courses in the autumn of 1984. The 25th anniversary of this pioneering achievement was celebrated over a six-month period with many activities, one of which was a jubilee website where visitors could tell their most memorable story about their early experiences with computers and IT. 
Podclub
Migros Club School remains a leader in innovation. The Podcast Language Service launched in 2008 attracted a lot of interest – 18'000 podcasts were downloaded monthly in 2009. Because of its success, the service was expanded: originally offered in English, Spanish and Italian, German and French were added in April.

Cooperation with Google
Developed in cooperation with Google Switzerland, the seminar Online Marketing with Google AdWords and Analytics was launched in September.

TableTalks
For the first time in 2009, two «TableTalks» took place. This offering of the Club School Business gives audiences a chance to meet and talk with personalities from the realms of industry, politics and society. The first two guests were the business leader, politician, and art collector François Loeb and the legendary Swiss cabaret artist Emil Steinberger. «Emil» turned out to be a real Migros fan: «The whole dynamic of Migros, from Duttweiler until today, impresses me very much. Migros is a unique enterprise».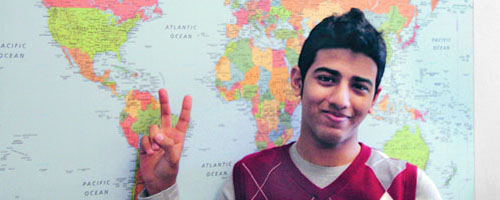 Eurocentres
Despite the global financial crisis about 11'000 students from more than 100 countries (Western Europe 34%, Americas 26%, Middle East/Turkey 22%, Asia 17%, others 1%), enrolled in a language course at one of the Eurocentres in 2009. Conscientious cost management and other foresighted measures made an impact, resulting in an extremely positive operating result.
Its market position as a high-quality provider was once again strengthened, thanks to success-determining factors like reliability and evidenced learning. The confidence and satisfaction of Eurocentres clients is not only reflected in many years of successful cooperation with reliable distribution partners around the world, but also in the regularly collected customer satisfaction statistics and the enthusiastic feedback of students in blogs and social networks.
Digital Natives@Eurocentres
The Eurocentres' core target group consists of 16 to 28 year olds who are mostly «digital natives». In 2009, the Eurocentres' online strategy was developed with this in mind. It encompasses the Facebook community, a Newsletter, testimonials on YouTube, and experiential reports to enable the interaction with and within the target group. An integrated online platform is envisioned to accompany and support students during their entire language sojourn, starting with the search for the right destination, deciding on the course and the accommodation.