Overfishing: The right fish on the dish
Migros is committed to the protection of the seas. In 2009 it added to its range of sustainable fish and removed more products from overfished stocks.
Since Easter 2009, Migros has offered MSC fresh fish at fish counters.The Marine Stewardship Council (MSC) label is awarded for sustainable fishing. This means that fish stocks may not be overfished and must be given time to recover. Compliance with the regulations is independently monitored.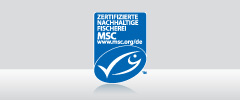 The label MSC guarantees sustainability.

Twelve different types of MSC fresh fish and seafood are now offered, depending on catches, at Migros' 160 fish departments. A large part of the frozen food range has also been switched to MSC products, and the range of fish and seafood with the MSC or Bio label is growing all the time. At the end of 2009, Migros offered more than 80 such products. The retailer has, after all, given an undertaking to WWF Schweiz to adapt its range to protect endangered fish species and limit overfishing. Up to now ((25)) types of fish have been removed from the counter and freezer cabinets or supply has been switched to a sustainable supplier.
Knowledge about sustainable fishing and Migros' current fish range is important if customers are to receive sound advice. For this reason, those working in Migros' fish departments underwent intensive training in 2009. The training module comprised two units. First, online training was completed by more than 2500 employees. Second, local training was carried out in the ten cooperatives by Migros specialists and supplemented with talks by WWF employees.